Classifying and setting up custom classifications
In VarSome Clinical there is the option where you can classify a variant using either any of the 5 standard classes of pathogenicity ("Benign", "Likely benign", "Uncertain significance", "Likely pathogenic" and "Pathogenic") or any of the pre-set classifications as shown below, by clicking on the

icon: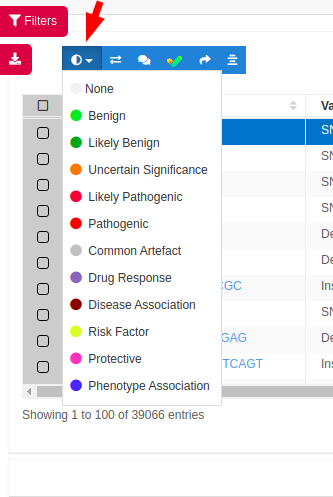 However, if you wish to create your own classification tag, you can just click on the

icon of the Variant Table and a pop-up box will appear. You should fill out the name and a unique classification code and choose a color for your tag and then just click "Save".

The new custom classification will be available with rest of the options: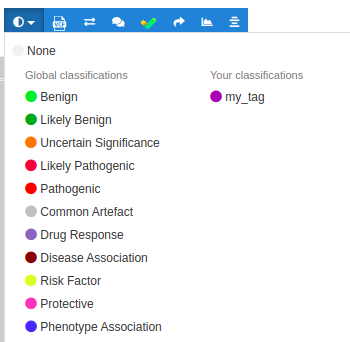 Comment on variants
Moreover, you can keep comments of a variant, which will be private by default, but you could optionally share with users outside your group, as is the 300 000-strong VarSome.com community! Also you could choose to include your comments in the clinical report.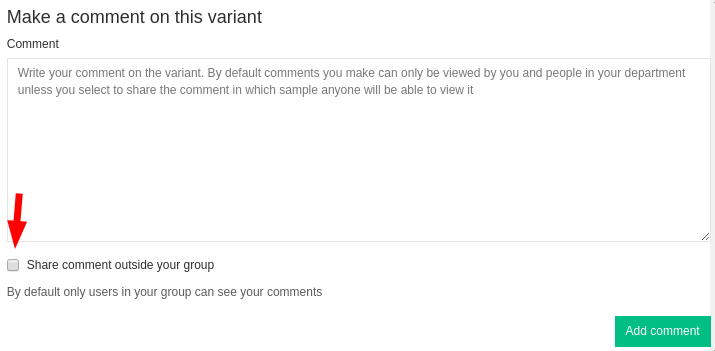 Keeping and sharing custom classifications
Custom classification is linked to the variant and will be displayed in other analyses of your group if the same variant is found and is shared among all users of the same group.

All custom classifications, along with other users' actions can be monitored by the group's supervisor via the audit trail tab. Although all custom classifications are private by default, VarSome Clinical allows you to share your data with other institutions if both parties consent in writing.
Import list of custom classifications and variant comments
VarSome Clinical can also take your list of custom classifications (i.e. manually curated list of variants) and upload it privately to your account, along with variant comments. Learn more here: