Classifying and setting up custom classifications
In VarSome Clinical you can add custom classifications to both SNPs/small indels and CNV variants.
You can classify a variant using either any of the 5 standard classes of pathogenicity ("Benign", "Likely benign", "Uncertain significance", "Likely pathogenic" and "Pathogenic") or any of the pre-set classifications as shown below, by clicking on the

icon: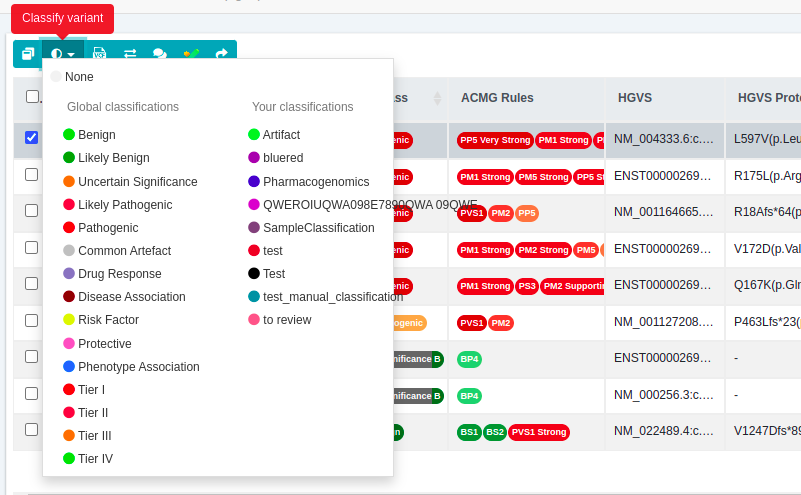 You can also create your own classification tags. To do this, click on the
icon located above the variant table:

A pop-up window will be shown where you can add your custom tags. You need to give a name to the tag and a unique classification code. Finally, you can choose a color for your tag and then just click "Save".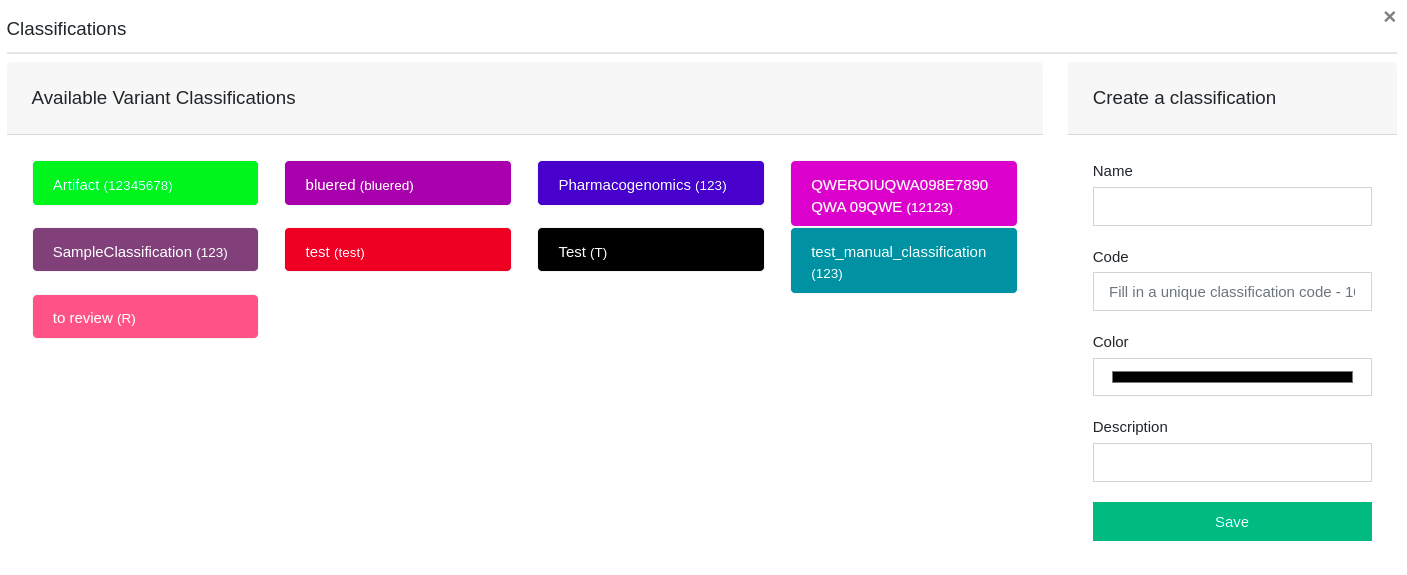 The new custom classification will be available together with rest of the options: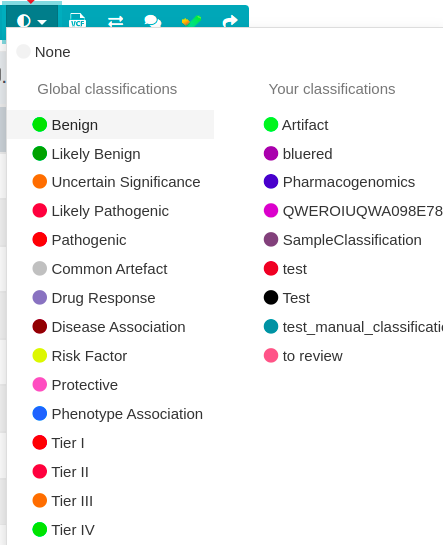 Custom Germline & Somatic Variant Classifications
The Germline and Somatic Variant Classifications allow users modified the set of triggered rules if the do not agree with the verdict. Once you have modified the set of rules, you click on "Save as manual classification" icon

below the verdict:

This will be saved as a custom classification attached to the variant. If you hover over with the mouse you will be able to see the manual classification with the set of rules used and the user who made the classification (in brackets).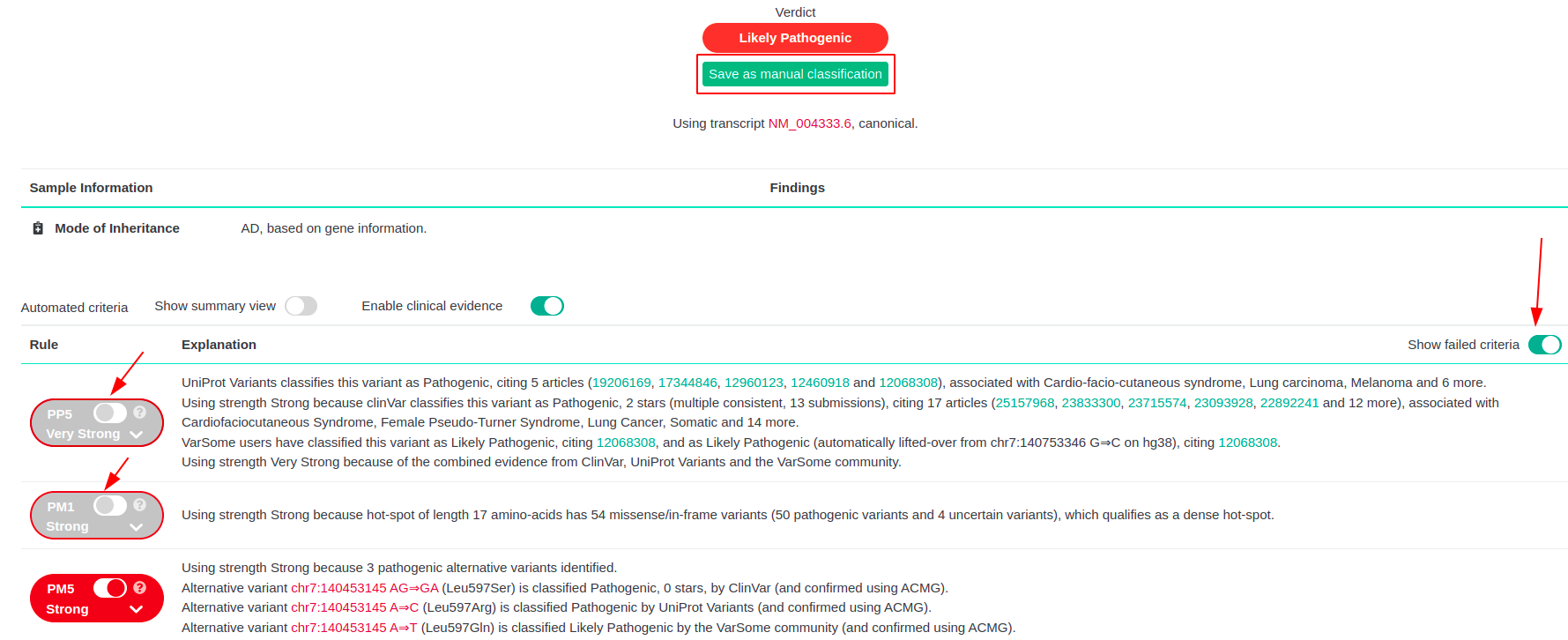 Comment on variants
You can attach comments to variants by clicking on the "Comments" icon:

A pop-up window will be shown where you can add your comment. The comment will be attached to the variant and it will be shown in other samples of your group where the same variant is found. The comments are also private for your group by default.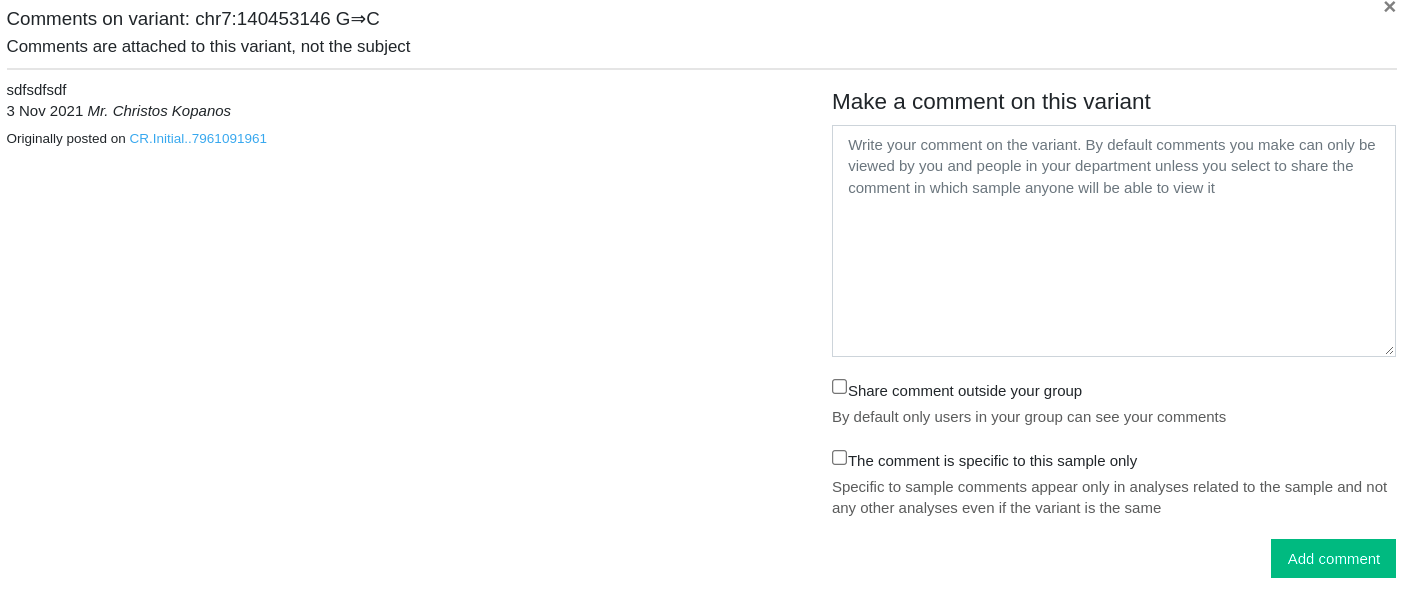 Share comment outside your group: if you click this option the comment will be share with the VarSome community of users.
The comment is specific to this sample only: if you choose this comment, the comment will be attached only to that sample and it won't be shown in other samples even if the same variant is found.
All custom classifications, along with other users' actions can be monitored by the group's supervisor via the audit trail tab.
Import list of custom classifications and variant comments
VarSome Clinical can also take your list of custom classifications (i.e. manually curated list of variants) and upload it privately to your account, along with variant comments. Learn more here: