Clicking on the filter icon opens the Filters menu where filter sets can be managed. To exit this menu, simply press "Esc" on your keyboard.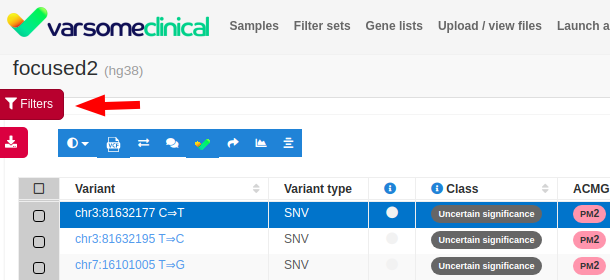 Setting up a new filter
Once you click on the Filters red icon, you can click on the "Create" icon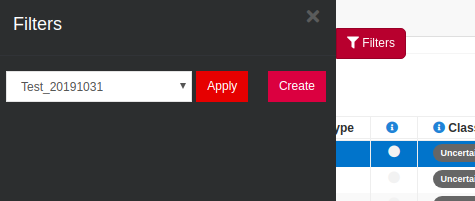 and you will be directed to a new window with all the available dynamic filters: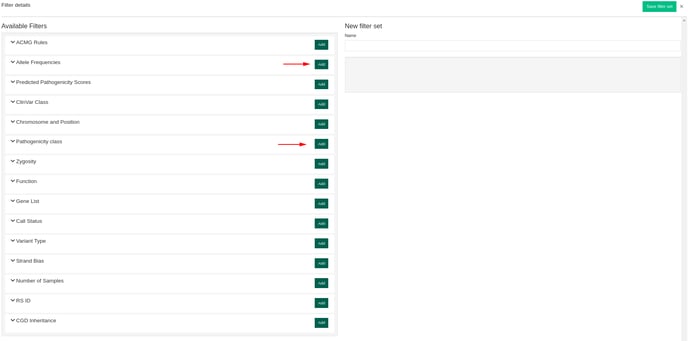 In order to filter your results for specific categories (e.g. Allele Frequency and Pathogenicity), you can add the ones you would like to include to the new filter set. On the right, you need to type in the name for the new filter set and select the parameters for each filter.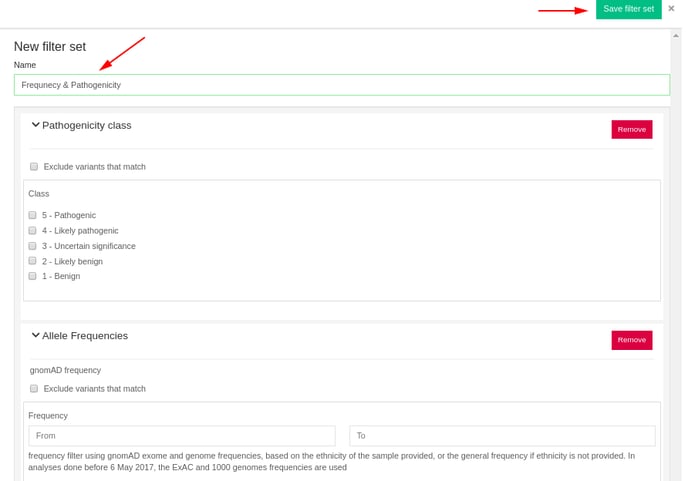 After you have completed a name for the new Filter Set you have just created, clicking on "Save" will apply the filter set to your results.
Applying an existing filter
A drop-down list will show a list of all saved filter sets. Selecting a filter set from that list will apply it to the variant table.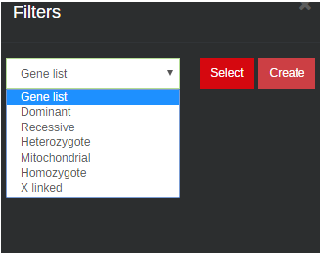 Filtering results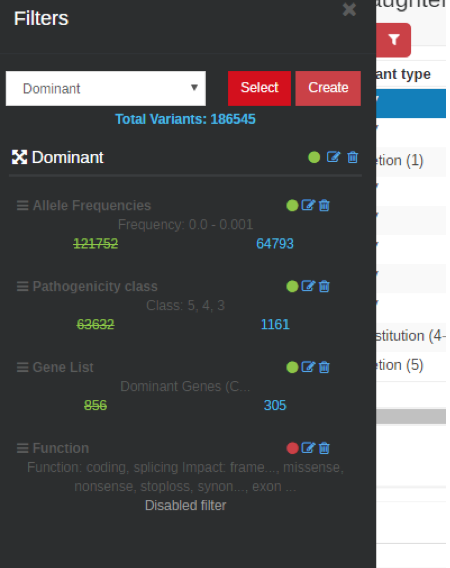 Each of the filters inside a filter set can be switched on and off by clicking on the green/red circles. Active filters have an associated green circle, and inactive filters have an associated red circle.
Variants passing the filter are shown in blue, and variants that fail the filter are shown in green and crossed out. In the example below, all filters are active except the Function filter.
Filters can be edited or removed: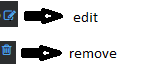 The order of the filters can be changed by moving the mouse on the top of the following button, then dragging the filter and dropping it at the desired position.
Note Dynamic Filters are tied to a specific user account and cannot be shared among multiple users. Each user needs to maintain its own set of Filter Sets.
Consequently, if multiple users work on the same sample, each with its own Filter Set, each user sees variants filtered by the Filter Set applied by that user, and not by the other one.