After you have completed a full analysis from FASTQ or VCF inputs, you can perform further sub-analyses using the available Algorithmic filters. Below we demonstrate two example workflows:
Select "Algorithmic filter analysis" from "Launch analysis" drop-down.

From the Analysis box drop-down choose the analysis you wish to apply the algorithmic filter to and on the right, choose from the available filters for your analysis. The icon links to information about the application of each filter.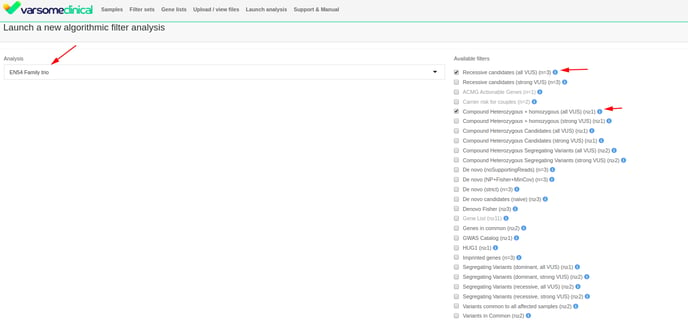 "Compound Heterozygous + Homozygous (all VUS)" filter example: In this case,our analysis is a Family Trio and we filter for variants that are: (i) classified as pathogenic, likely pathogenic or of unknown significance (all VUS, irrespective of ACMG rules), (iia) homozygous or (iib) heterozygous in genes that carry at least one other heterozygous variant and no homozygous pathogenic variants and (iii) not found in mitochondria. At least one sample is required for the filter to be applied.
From 73545 variants of the initial data set, we end up with 14 variants passing the filter.

Let us see an example of "Recessive candidates (all VUS)" being used. This filter requires 3 samples (parents and one child) already analyzed. It looks for pathogenic variants that may be causative of recessive disorders in the child of unaffected parents. Included are variants for which all of the following apply:

the proband is homozygous/hemizygous or the proband has two or more heterozygous variants in the same gene and they are not all inherited from the same parent (compound heterozygous candidates). This includes cases where one or both of a pair of variants is not found in either parent. Please note that this applies the approach of the "de novo (naive)" algorithmic filter: if the variant isn't called in the parent, it is considered absent. We do not check whether the parent may have reads supporting the variant as we do for the "strict" version of the de novo filter.
are classified as pathogenic, likely pathogenic or of unknown significance (all VUS, irrespective of ACMG rules)
neither parent is homozygous/hemizygous (we assume that neither parent is affected)
are not in mitochondria
fall within a gene
From 73545 variants, 4059 were included in the results.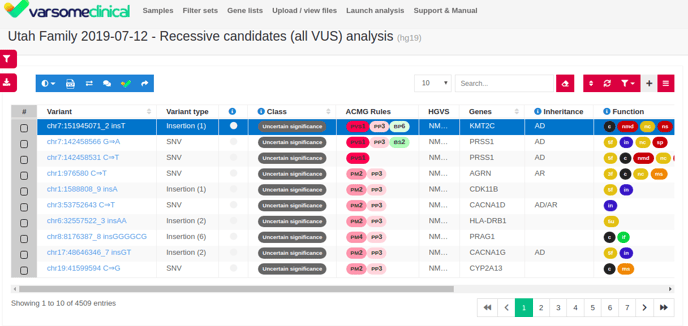 We applied two more filters (see FAQ 1), for autosomal recessive mode of inheritance and a list with known disease associated genes and ended up with 236 candidate variants.